Time to write up Boston Marathon and then you can be rid of my Boston related witterings.
Firstly, what an experience. You can read my thoughts about Boston and its hype here, but yes it is a different experience to any other marathon I've run. Better in every way? I can't in all good conscience say that and I'm certainly not sure that the cost involved in going is really justifiable but heck, if I'm honest I'd go again next year if I could. It's just got something about it.
So what was my race like? Well, you will have seen that I sheepishly snuck in my result of 3:07:03 into my training log. It wasn't the result I would have liked to be telling you about but we can't have the perfect race every time. I had badgered Mr B into including it in our holiday plans on the basis that I would do it for fun so I shouldn't really care but I try to be honest here and being the competitive bundle that I am, deep down I wanted to do well. I wasn't blazé about the course at all - I knew it would be thought but if I'm honest, I thought sub three should be do-able and I was hoping for better. BUT I'd said that I wanted to enjoy the experience rather than being head down all the time. My splits are at the end of this ramble.
First things first though, what are the answers to my "5 things I don't know about Boston Marathon"?
-----------------------
1. What am I going to do between 6am getting on the bus at starting at 10am? Will I be bored or will it just fly by? Will I have the right amount of food with me? Should I risk eating bagels etc while I'm waiting in Hopkinton? How cold am I going to get? How many times will I have to go to the loo?
Estimated answers: both, yes, no, pretty cold, about 5.
Actual: Fly by, Yes - too much, no, not cold at all, 5...just becasue.
I got on the bus at 6.30 and got there about 7.30ish. I found a patch to sit down, read the Paula Radcliffe biography (not the good, hence I was happy to leave it), chatted to some peope around me, but on some sunscreen, wandered, put on more sunscreen, ate and then it was time to wander up. It flew by. I could have got on the bus later but I was glad I'd got a good spot in the marquee.
2. What happens between the time that you leave for your starting corral an actually setting off?
Estimated answer: there'll be a portal to another world that we disappear into for a bit. Or maybe that's a portaloo?
Actual: Walk slowly, say hi to the people in Hopkinton, queue for the portaloos and chat to people in the queue, laugh at the fact that guys were *queueing* to wee in the hedges. Then, we stood in our corral and saw the elites come out and then were asked to look at the flag while the national anthem was sung. It was completely silent and then two fighter jets did an earsplitting flyover. It was spine tingling!
3. Will I regret not doing the 5k on the Saturday, the pre-race pasta party or the post-race Boston Marathon Mile 27 party?
Estimated answer: Yes absolutely. I will be kicking myself and having major FOMO about absolutely everything. If the race goes well I won't care about the pre-race bits but I'll wish we could go to the party. If it doesn't go well I'll be annoyed about the pre-race bits but won't care about the party. 2 days later I suspect I won't mind about any of it.
Actual: Our hosts were awesome so I didn't have any FOMO at all. We drove the route with them on the Sunday afternoon and they came out to support and see me at the end of the race.
4. What will the weather be like?
Estimated answer: Your guess is as good as mine, but you can be sure that if it goes badly we'll all be blaming the weather!
Actual: Oh dear... this was more accurate than I would have liked. Reports vary but it was somewhere between 21-17c and sunny. This was one of the reasons I ran slower than I would have liked. Actually, I don't think it should have affected me as much as it did but I got in my head that I was too hot and I went to every single water station which slowed me down and really knocked my rhythm even more than the hills.
5. Will it be fun, will it go well and will Mr B and I actually manage to see each other before I've crossed the finish line?
Estimated answer: If I have any say in the matter it's going to be a blast. Run the race, arms aloft at the finish line. That's how it works, right?
Actual: Yes, it was fun. The whole thing though, not just the race. It didn't go as well as I'd hoped but I had a lot of fun. Mr B saw me just on the home straight but I didn't see him.
---------------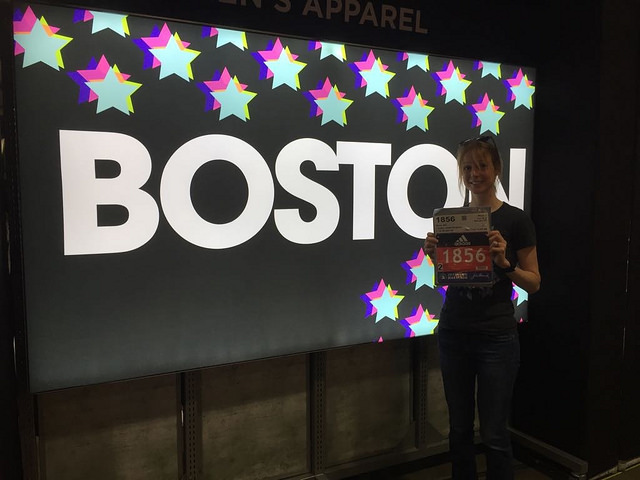 So, how am I feeling about it?
Positives:
Running an undulating race:
This was a really good lesson in handling (or not) a race where I couldn't do even splits. My pacing is normally metronomic and this really threw me. I didn't really know if I was being sensible on the uphills or just not trying
Learning about my hydration:
I thought I was thirsty the whole way round but I know I've run hotter races and taken on a lot less water so I didn't need to go into the water points as much as I did. I wasn't dehydrated at all at the end.
Learning what I love about racing:
I had seen others running "party pace" at marathons and often thought it would be nice so when I thought I'd lost it on this one I relaxed and let my focus go. Actually, I got a bit bored a couple of times. I've learned that what I really enjoy in a race is when I'm trying hard I notice that it's working. Yes it's exhausting mentally but I think that's what I like.

Getting to experience Boston, making new friends and just being able to go:
The whole city really buys into the race. It's awesome. That's what really makes it. On top of that we made new friends in our hosts Dan and Cathy and their mates Jeanette and Jacob. I'm well aware that I'm incredibly lucky to have the means to be able to have done this race so I'm very grateful for that.
Negatives:
Not getting into a groove:
It wasn't the uphills at the end as much as the face that there was never time to get into a rhythm.
Not using my tried and tested mental techniques:
I wrote my 6 people to run for on my hand, I had my mental tricks ready to go. I forgot to use any of them. Numpty.
Not judging when I had lost it:
I thought I'd lost it by half way but looking at my splits I could have hauled it back.
Not taking the chance to hangonto someone:
When the awesome Sorrel Walsh flew by I felt myself kick a bit and I probably could have done that at other points, but I didn't. I mean, I wouldn't have got her amazing time but I should have taken that chance if I *really* wanted it.
Not taking the advantage of the start:
I was so conscious of not going out too fast and the heat that I didn't take advantage of the start. I was planning to go as low at 6'20/mi for the starting miles but I didn't manage that.
Not really knowing what I was there for:
I wasn't absolutely sold on running for fun and I hadn't absolutely got my head in the game to run hard.
Other things:
I got my photo with the race director (Dave McGillivray) and with the oldest participant (Katherine Beiers, 84)
| Splits | Avg Moving Pace | Avg HR | Avg Run Cadence | Avg Stride Length |
| --- | --- | --- | --- | --- |
| 1 | 6:34 | 154 | 190 | 1.29 |
| 2 | 6:25 | 172 | 194 | 1.29 |
| 3 | 6:23 | 174 | 194 | 1.29 |
| 4 | 6:20 | 176 | 194 | 1.31 |
| 5 | 6:43 | 179 | 192 | 1.24 |
| 6 | 6:39 | 179 | 192 | 1.26 |
| 7 | 6:41 | 178 | 190 | 1.26 |
| 8 | 6:52 | 178 | 190 | 1.23 |
| 9 | 6:50 | 179 | 190 | 1.24 |
| 10 | 6:55 | 179 | 190 | 1.22 |
| 11 | 7:09 | 177 | 188 | 1.19 |
| 12 | 6:41 | 177 | 192 | 1.25 |
| 13 | 7:00 | 176 | 190 | 1.21 |
| 14 | 7:04 | 175 | 188 | 1.21 |
| 15 | 7:23 | 172 | 186 | 1.17 |
| 16 | 6:46 | 171 | 190 | 1.25 |
| 17 | 7:34 | 172 | 186 | 1.14 |
| 18 | 7:42 | 170 | 186 | 1.12 |
| 19 | 7:03 | 169 | 190 | 1.20 |
| 20 | 7:24 | 170 | 188 | 1.15 |
| 21 | 8:00 | 170 | 184 | 1.09 |
| 22 | 7:07 | 168 | 192 | 1.17 |
| 23 | 7:10 | 168 | 190 | 1.18 |
| 24 | 7:25 | 165 | 190 | 1.14 |
| 25 | 7:39 | 163 | 188 | 1.12 |
| 26 | 8:03 | 162 | 184 | 1.08 |
| 27 | 7:45 | 164 | 188 | 1.09 |
| Summary | 7:05 | 172 | 190 | 1.20 |