Monday 3rd - Recovery run if possible (still in Northern Ireland - return PM)
Given that I didn't have my rest day on Sunday and it was a minging day, I had a rest day.
Tuesday 4th - AM: S&C Work // PM: Track Session
3x 12 x Split Squat 30kg
Glute Bridge 3 x 12 x 27.5kg
Squat 1 x 12 x 40kg, 2 x 12 42.5kg
3x core

Track was 5x 1600s (and I didn't run there - I'm being good in the run-up to the race)
Splits: 6'11, 6'09, 6'11, 6'09, 6'13
Wednesday 5th - 30 minutes Recovery Run + Stretch
Went out with Mr B before hopping on the train to Salford for work.
Stats:
30:28, 4.1miles, 7'26/mi, 148bpm not so much of the stretching...
Thursday 6th - 10 minutes Warm Up, 4 x 10 minutes with a 90 second recovery, 10 minutes Cool Down - Alternate between Threshold and marathon Pace (1, at Threshold, 2,4 at Marathon Pace)
This felt surprisingly good. Mr B came out with me for the warmup and then peeled of to do his own run while I carried on. Feels like the last two weeks at track have helped me find at least a little speed again. The MP felt achievable too. It *is* only 10min blocks though!
Stats:
WU = 8'14/mi 141bpm
1T = 6'18/mi 154bpm
2MP = 6'31/mi 158bpm
3T = 6'15/mi 161bpm
4MP = 6'34/mi 161 bpm
CD = 8'04/mi 154bpm
Friday 7th - 45 minutes Easy Run + Strides
Did this by going down to join AdidasRunnerLDN for their session. They were doing unstructured fartlek. I've missed seeing my friends down there. It was great to be back and the session worked well for this as the speedier parts were short and it was a small loop.Then ran across to work.
Stats: 25:50 (varied pace), 3.1 miles + 24:37, 2.7 miles, 9'24/mi (laptop-rucksack)
Saturday 8th - The Maverick Inov-8 Original Dorset
Instructions were to go steady but nothing major for the first half, then go for it in the second. What actually happened? There were lots of hills in the first half but I tried to keep it steady. There were more hills in the second half and I wasn't able to up the effort. BUT it was an incredible race. Absolutely stunning views, glorious weather and I got to run with friends and go to the pub with friends afterwards. And I came 1st lady (14 out of 185 overall) in the 14.4mile race. You can see the pace , route etc here . I tried out some Inov-8 trainers, wore my lovely Lauren Fleshman stance socks and my Soar Running tshirt (which stopped me getting sunburned) and enjoyed chilling out in the field afterwards... and then in a pub (no booze until post race though)
Stats:
1:53:24, 14.4 miles, 7'50/mi, 154bpm (seriously? I swear my heart was going harder than that!)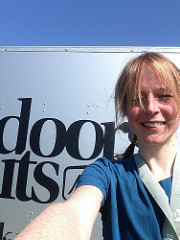 Sunday 9th - 30 mins conditioning
Which I *will* do...I *will* (I've not missed one yet but I've got very close and you know what... the week after Boston there's one in the plan!! I'd rather get to go for a run. Still.. coach knows best.
Total miles: 39.4
What does next week look like as I head towards Boston?
Monday = Easy 60
Tuesday = 10 min WU, 3 x 10 minutes at Threshold w/ a 90 second recovery, 10 min CD
Weds = 30 mins recovery run + stretch
Thurs = Rest day
Friday = 10 minutes Warm Up, 2 x 3 x 2 minutes at 5k Pace with a 45 second recovery between reps and a 3 minute recovery between sets, 10 minutes Cool Down (Fly at 5pm-ish)
Saturday = Rest Day / 40 minutes Easy Run
Sunday = 20 minutes Easy Run + Strides
Monday = IT IS HERE!