Monday 11th - Easy run to work
Stats: 1:26:57, 10.4miles, 8'18/mi, 159bpm
Tuesday 12th - AM: 30 minutes Recovery Run // PM: Track Session
AM run to work, PM run from tube to track and then track was 4x 900,500 off 75s 3 mins between sets.
Stats:
AM runcommute = 1:09:51, 8.2mi, 8:31/mi, 144bpm
PM Run to Track = 28:35, 3.1m, 9'04/mi, bpm n/a
Track =
900-3:51
500-1:52
900-3:41
500-1:53
900-3:38
500-1:54
900-3:38
500-1:55
Total miles inc WU = 4.6 40mins
Wednesday 13th Gym Session
Made myself do the less fun session because I've been avoiding it!
3x12x 30kg split lunge + low box jumps
3x12x 20kg deadlifts + hop and stick
3x12x 42.5kg squats + pogos
3 x core routine (plank, heel taps, side plank, hollow hold, superman, lying leg extension, glute bridge)
Thursday 14th - 45 minutes Easy Run - include 6 x 2 minutes at 90% with a 60 second jog recovery in the middle
Stats: 44:47, 5.6mi, 7:54/mi, 159bpm
Friday 15th Rest Day

I swear I'm stiffer by the end of rest days than if I just run. But I do what I'm told becaue I know it's right. DOMS from Weds - can tell I haven't done that session in a while and also ate my recovery bar on the eay to the gym instead of having it after like it's meant to be. EEjit.
Saturday 16th - 20 minutes Easy Run + Strides
Stats: 3.2mi, 23:51, 7:16/mi, 154bpm
Sunday 17th - Harrow Half
I'll be honest, I was pretty nervous about this. I wanted a target because I enjoy races more if I have one, but I was also not sure what I could hit and whether 13 miles at pace would be too much in my 17weeks-of-40 state. As it happened I had an absolute blast and smashed by target of 7'20/mile pace. mr B also had a stormer and sat exactly on his planned pace of 7'00/mi. I think the photos say it all :) I mean it's funny because the Half Marathon at Eton Dorney I did last March and which was a total disaster was waaaaaaay slower, but this felt like a different beast and I high fived and bantered my way aorund the course.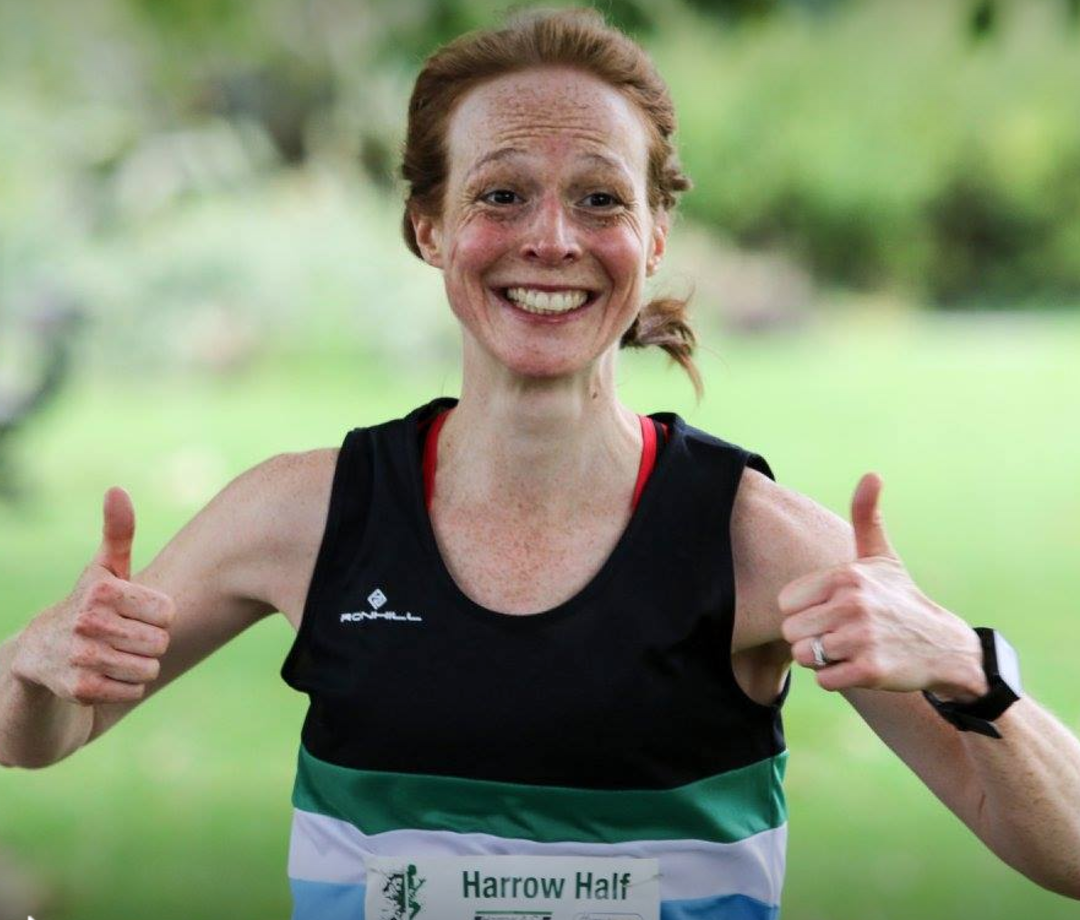 1:32:52, 7'06/mi, 166bpm and felt good
r B: 1:31:43