She has been first lady in every race she has entered (and they don't even show Race to the Tower) except London Marathon where she placed 6th non-elite and 10th overall in the women's race.
1.Mary Menon - 03:46:22
2.Leigh Pursey - 4:18:53
3.Kathryn Kyle - 4:31:59
Full results here
In the half marathon Jane Faram from Southeville RC held her
1. Jane Faram 1:38:47 (Twitter @FaramAuFait)
2.Sarah Ridehalgh 1:45:29
3.Ruth Jones 1:49:01 (of Fast Running???)
Full results here
Tracy Barlow took the win at Swansea in a course record of 73:51 (with the men's race also setting a course record. The Nick Anderson coached athlete commented that it was the first time she had been able to 'break the tape' in her running career but she's definitely won race before, so they must not have been tape-level races? Which gets me thinking, it would be amazing to break the tape some day. What a feeling. Well done Tracy!
Despite the heat it was a competitive race, with the top 7 ladies coming within the 80min mark.
More here from Fast Running.
1. Tracy Barlow, Thames Valley Harriers 1:13:51
2. Laura Graham, Mourne AC 1:15:57
3. Gladys Ganiel, North Belfast Harriers 1:17:22
The Marathon Challenge is a suite of three races which take place over three consecutive days. The races consist of a 5 mile run, an 8.1 mile trail race, and a half marathon; all of which adds up to a full marathon distance.
The challenge was won by Jennifer Ansell of East London Runners. This was Jennifer's first official race since January when she came 3rd in the Benfleet 15 and 1st in the Havering Midweek 5mile race. Since running Boston Marathon in 2016, she has been focussing mainly on 5k - 15mile races, with her 5mile PB being set at the Havering race at the start of the year (31:20)
1. Jennifer Ansell - East London Runners- 00:32:18, 00:54:40, 01:31:34, = 02:58:32
2. Kelly Barnett - Wellingborough & District - 00:32:33, 00:55:38, 01:33:33 = 03:01:44
3. Jo Windrum - OpenNorthampton Road Runners - 00:34:56, 01:00:13, 01:38:29 = 03:13:38
DARTFORD MIDNIGHT MARATHON & HALF
As mentioned in last week's preview, the top 2 placers from last year's race were not on the start line, leaving 3rd placer Ruth Harris (4:04:02) the favourite.Ruth put in a great performance, taking 4 minutes off her time, but was beaten by a faster field this year. Maria Martinez of the aptly named Midnight runners took the top spot, finishing just over minute faster than last year's winner.
1. Marina Martinez, Midnight Runners - 03:30:18
2. Elizabeth Riffel-Altman - 03:34:55
3. Clare Sims, Wy Valley Runners - 03:37:58
4. Ruth Havis, Billericay Striders - 04:00:00
Full results here
Half marathon results:
1. Dee Lye 01:49:04
2. Jie Liu 1:56:39
3. Tracy Read 1:57:14
HITCHIN HARD HALF
I had to include this, as I was born and bred in Hitchin, Hertfordshire. I have yet to run the race but I really fancy it. Join me in 2019?
The rolling half marathon in the gentle hills around Hitchin was won by German local based runner, Astrid Mckeown (who I think is a research scientist at AstraZeneca). Astrid mai competes in other local races such as the St Neots Riverside Half, Standalone 10k and the Three Counties league but is not just local level - she won the Standard Chartered 10k in Dubai on 2010 and has a marathon PB of 2:59:50 set in Frankfurt in 2015.

1. Astrid Mckeown North Herts RRC - 1:29:21
2. Leah Kenny - 1:30:25
3. Kristy Guneratne - 1:37:26
 

Full results
If you've never heard of Hitchin and you fancy the race, find out what people thought of it over on Facebook
 
ROAD PREVIEW
 
The big race to watch out for this weekend is the Gold Coast. An IAAF Gold standard race, it's a rare top-level marathon at this time of year. Sadly there are no GB athletes in the elite field and a full start list hasn't been released, so we'll have to wait until Monday to find out which Brits took part. It looks to be a good race with Ruth Chebitok of Kenya who set her marathon PB of 2:25:49 in Barcelona in March being in obviously good shape. However, her countrywoman Agnes Barsosio has a faster PB and hasn't raced yet this year so may well bring fresher legs to the race. It wouldn't be ridiculous to root for the home-girl Jessica Trengove though, especially after her bronze medal at the recent Commonwealth Games which she collected in a time which was some way off her best. In the Half, USA's Sara Hall heads up the Elite list after setting a PB and getting herself into 9th place on the all time Women's Marathon USA list at the Ottowa Marathon earlier this year (2:26:20)
The full elite start list is:
"Women's Elite Field
"
Bib
Name
Nat
Personal/Recent Best
51
Agness Barsosio
KEN
2:20:59 (Paris, 2017)
52
Ruth Chebitok
KEN
2:25:49 (Barcelona, 2018)
53
Jessica Trengove
AUS
2:27:01 (London, 2017)
54
Ayaka Fujimoto
JPN
2:27:08 (Tokyo, 2017)
55
Miharu Shimokado
JPN
2:27:54 (Nagoya, 2017)
56
Celia Sullohern
AUS
2:29:27 (Melbourne, 2017)
57
Mao Uesugi
JPN
2:31:49 (Tokyo, 2018)
58
Yukari Abe
JPN
2:35:47 (Nagoya, 2015)
59
Victoria Beck
NZL
2:42:01 (Gold Coast, 2017)
60
Mizuha Otaru
JPN
2:40:41 (Kobe, 2017)
61
Momoko Tanaka
JPN
2:42:09 (Tokyo, 2018)
63
Kirsten Molloy
AUS
2:43:43 (Melbourne, 2011)
64
Margie Campbell
AUS
2:43:57 (Melbourne, 2017)
65
Alice Mason
NZL
2:44:05 (Saitama, 2017)
66
Sophie Ryan
AUS
2:44:59 (Melbourne, 2017)
67
Krystalanne Curwood
USA
2:45:04 (Sacramento, 2017)
68
Amelia Aslanides
AUS
2:45:51 (Melbourne, 2017)
69
Mel Aitken
NZL
2:47:42 (Gold Coast, 2017)
70
Sally Gibbs
NZL
2:41:15 (Gold Coast, 2012)
TRAIL RUNNING
Cajsa brings you all the news from the trails:
There was definitely no lack of inspirational material to make one want to rise from the murky jungle of crisp crumbles and bad tats in the world cup sofa and head out for a long run in the fields of green this weekend.
It was there in all its head torch lit- start line glory when you put your tired runners head on the pillow at night and it was there with a high altitude dolomite-an sunrise to drool over for breakfast.
I mean just recapping what went down is going to be up there with the endurance performances of the year and here's a warning; for you to get to the last sentence of this round up will require a serious nutrition strategy … Ahem, peanut butter bars at the ready? Time to get real and give it up to the actual sheros of the past seven days, starting in La Bella Italia with;
LAVAREDO ULTRA TRAIL 120 km / 5800 m, 48 km / +2600 m
First out of two major UTWT (Ultra Trail World Tour) instalments this weekend was a 120k beast of a race up, down and around the majestic and prolific summits surrounding the valley of Cortina in the Italian Dolomites.
This years Vibram Hong Kong 100 winner, the 22 year old Miao Yao, dominated the nocturnal first half of the race and created a big gap between herself and a contingent of chasing americans (Kelly Wolf, Clare Gallagher and Keely Henninger) during the night. As the sun started to rise over Tre Cimi the 2018 Tarawera champion Kelly Wolf decided to turn up the heat and started closing in on Yao. 100 k into the race Wolf took the lead and after a very strong finish she reached the finish line in Cortina as first lady over 15 minutes ahead of Miao Yao. Very impressive racing from the American 25 year old who has had a solid first half of a year on the international trail circuit with a win at Tarawera, a 3rd place at Transvulcania and now a prestigious victory at Lavaredo.
Rounding up the podium 26 minutes behind Wolf was Swiss Iron Lady Kathrin Gotz who had a bit of a quiet one in 2017 but seems to be back to true form this year. Another runner proving her return to 'Top 5 race shape' was Mira Rai who finished fourth behind Gotz a mere minute ahead of second American and 5th lady Keely Henninger. Pre-race favourite Clare Gallagher struggled with nutritional problems and finished in 9th. Another top runner with a sub par day on the trails was Nuria Picas who had to pull out early in the race due to an ongoing ankle injury.
GB's Beth Pascall was in the top 10 for most of the race but lost a bit of momentum towards the end and finished on 18th place just ahead of Sophie Grant.
1. Kelly Wolf (USA), 14:37:00
2. Miao Yao (CHN), 14:52:04
3. Kathrin Gotz (SUI), 15:03:04
4. Mira Rai (NEP), 15:21:45
5. Keely Henninger (USA) 15:22:47
In the shorter but equally punchy sister race The Cortina Trail the victory went to the now legendary come back queen Hillary Allen. Back from a life threatening fall on Hamperokken during last years Tromso Skyrace she controlled the race from the get go and finished in 05:19:20, three minutes and 50 seconds ahead of Hungarian runner Iren Tiricz. Third lady to reach the finish was Poland's Anna Kacka in 05:37:23.
1. Hillary Allen (USA), 05:19:20
2. Iren Tiricz (HUN), 05:23:11
3. Anna Kacka (POL), 05:37:23
WESTERN STATES 100 miles / +5500 m
As per usual this most legendary race on the American Ultra calendar brought the heat, both in terms of actual weather and the kind that only a stacked field of hungry trail beasts, ready to burn some serious rubber can bring.
The Australian Western States Rookie Lucy Bartholomew shot off from the start-line in Squaw like a wildfire and held onto the lead for a fast first half of the race.
By mile 38 she had 23 minutes between her and a chasing pack led by Courtney Dauwalter. A gap that soon proved not to be big enough as at the half point mark in Forest Hill, after making some serious ground over short time, the pre-race favourite Dauwalter had gained the lead. With a race-head like few others and Camille Herron sidelined by injury there was nothing stopping the queen of baggy shorts from there and Courtney Dauwalter ran home the victory by crossing the finish line on Placer High School track in the second fastest female time in Western States history (17:27).
The 22-year old early race leader Lucy Bartholomew finished strong in her first ever 100 mile race and came in as third lady in 18:59 after being overtaken by Kaytlyn Gerbin in the final stages of the race. Gerbin finished second, 70 minutes behind Dauwalter in 18:40.
Now lets cross all of our fingers for the race organisers of UTMB to reward Courtney's performance with a ticket to run around Mont Blanc in August. I would personally love to see her head to head in a race with Mimmi Kotka.
Fastest British contender was the Norwegian born but UK resident and multiple Centurion 100 champion Mari Mauland who finished 33rd lady in 25:58.
1. Courtney Dauwalter 17:27
2. Kaytlyn Gerbin 18:40
3. Lucy Bartholomew 18:59
4. Amanda Basham 19:17
5. Cecilia Flori 19:42
PHEW, that MUST be it you might be thinking by now but NO, hold on to your trucker caps and take a deep breath because there is more to come and the next headline is a long one;
WORLD MOUNTAIN RUNNING ASSOCIATION LONG DISTANCE CHAMPIONSHIPS 2018, 36,2 km / +2110 m
As the extended caps lock title above suggest there was another big race on the agenda this weekend. The 15th annual WMRA Long Distance Championship were held on a 36 km course in the areas surrounding the town of Karpacz in South Western Poland and judging by the result list it was one that suited our British sisters very well. Charlotte Morgan won gold for Great Britain by beating Polands Dominika Stelmach to the finish with 22 seconds in 3:08:26. The bronze went to Italy through Silvia Rampazza who came in two minutes ahead of Romania's Denisa Dragomir and on 5th place we find our second UK lady Victoria Wilkinson in 3:14.
1. Charlotte Morgan 3:08:26
2. Dominika Stelmach 3:08:48
3. Silvia Rampazza 3:10:33
4. Denisa Dragomir 3:12
5. Victoria Wilkinson 3:14
Right, time to hit another GU and scroll on dear readers we're hitting some vert next…
OLYMPUS MARATHON, 44 km / +3200 m
As if two UTWT races and one World Mountain Running Championship over one weekend was not enough the Skyrunning World Series decided to throw one of their annual races into the mix.
Swedish twins Lina and Sanna El Kott dominated the race from the start and finished first and second lady in 5:21 and 5:23 respectively. On third place in her comeback race after giving birth was American Stevie Kremer in 5:28.
1. Lina El Kott 5:21
2. Sanna El Kott 5:23
3. Stevie Kremer 5:28
Hang on to that cliff, there's more rugged race reporting to read …
MONTE ROSA SKYMARATHON 35 km / 7000 m (no that is not a typo but explains why this is a race that demands you being tied to a partner for safety!)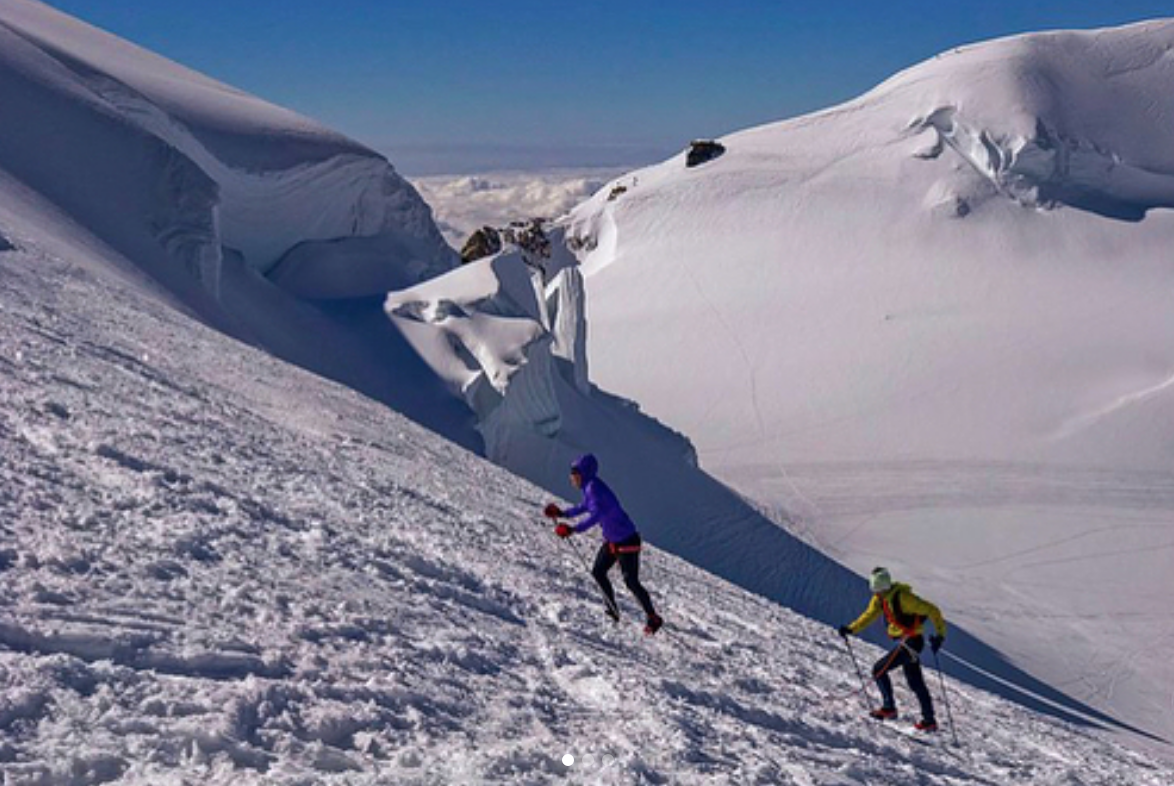 The legend tells that this is the race where Skyrunning was born and seeing that this was the 25th year that runners in pairs took on a route covering everything from summery ski slopes in bloom to frost biting glaciers it is probably one to believe to be true. First female pair to cross the finish line was that of our UK trail homie Holly Page who had teamed up with the American and experienced skyrunner Hillary Gerardi. They finished in 5:51, over 35 minutes ahead of second female pair.
The mixed teams compete against the all male teams and on third place OA we find Emelie Forsberg who paired up with her Killian Jornet to finish only 12 seconds behind second place in 5:03:56. Incredible achievement by Forsberg who only a week ago claimed a FKT on the summit of Mont Blanc.
Right we can land with both feet safely back on the trail now since thankfully both the Pen Llyn Ultra and 10 peaks have not delivered any results yet and the Trail Team Relay World Championships had to be cancelled due to severe weather conditions so lets jump straight on to the last report of this weeks recap;
RACE TO THE KING, 53 miles
This second event of the annual Threshold Trail Series is a 53 Mile long race over the soft rolling hills of the South Downs Way starting at Slindon Estate near Arundel and finishing at Winchester Cathedral. Isobel Rea, the 2018 CTS Sussex champion started out fast and reached the 23 mile marker in 3:40:47, she stayed strong through the second half and won the race in an impressive 8.45. A time over 45 minutes faster than that of second lady Rachel Stanley-Evans.
In third, finishing in 10:04 was Rachel Dench.
1. Isobel Rea 8:45:10
2. Rachel Stanley-Evans 9:31:09
3. Rachel Dench 10:05:00
Thats the past in a wrap, lets take a quick look at what's on the ridge line for next week.
The European race season continues in the French alps with Marathon Du Mont-Blanc, which isn't in fact a marathon but a brutal 90 km race said to be tougher than UTMB. My bets are on last years champ Mimmi Kotka to follow up her 2018 winning streak by claiming another trophy.
In the UK it's the weekend of St Cuthbert's Way Ultra (100 km), Cotswold Way Challenge and CTS Snowdonia Quarter.
And if this lengthy report from the forrestial side of running has, against all odds, left you hungry to test out a trail race I would highly recommend heading to Sudley Castle this Saturday where The Maverick Trail series offers up routes of 7, 17 and 23 km of beautiful rolling landscapes perfect to test your off route legs on.
Right, time to give that tracker refresh button a rest and go plaster my tapping-blistered fingers in rock tapezzz zzz zz zz zz…..